BUYING A HELICOPTER
Tips for packaging and shipping your helicopter
If flying it home is not an option, you have three basic shipping options: land, sea, and air.

By: HeliTraderPosted on: December 6, 2022
You've had your aircraft inspected. It has passed all the tests and has no liens. The paperwork is in order and you've made the purchase. Now, it's time to get your new bird from its seller's location to you.

If flying it home is not an option, you have three basic shipping options: land, sea, and air. Each has its advantages and disadvantages, with the main differences being cost and time. Regardless of how you choose to transport your aircraft, it's important to do your homework and choose a transportation company with experience transporting helicopters.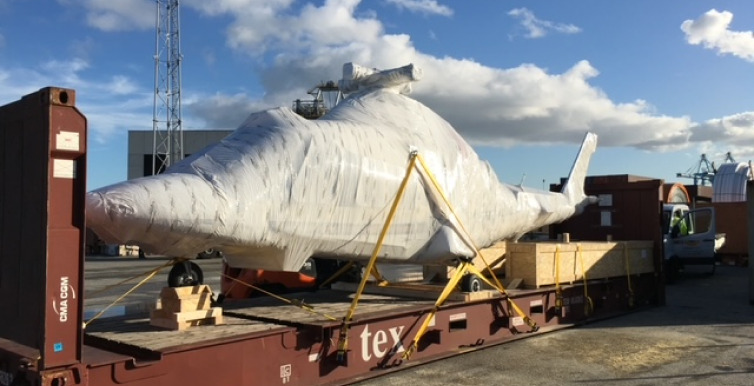 Land, sea and air

In a nutshell, land is typically the least expensive option. However, it can take longer — depending on distance — and can expose the aircraft to the highest risk of damage if not handled by professionals with aircraft transportation experience. For instance, look for a shipping company with air-ride trailers designed for the weight of your aircraft that soften the ride. Contrarily, trailers rated to carry extreme weight can provide a much bumpier ride for helicopters, potentially leading to damage.

Sea shipping via container ship is the next most affordable option. Customers typically pay a flat rate for a standard shipping container versus paying by weight for air. However, space is limited to a 40-foot container, which can get tricky when it comes to larger aircraft. Considerable disassembly and reassembly are often required.

Container shipping these days is plagued with delays, regardless of the cargo, and prices have risen as a result. A container ship option could also take the longest — between waiting for the aircraft's container to be loaded on a ship, sailing time, waiting for it to be unloaded, then waiting to clear customs on the other side. But containers aren't the only option for sea shipping. Dave Urban, CEO of Direct Helicopters, recommends using roll-on, roll-off (RORO) shipping. More expensive than container shipping, but still much less than air, RORO shipping uses boats designed to carry wheeled cargo in a completely enclosed and temperature-controlled cargo bay. Helicopters are secured to special MAFI trailers with the rotor blades stored in boxes under the tail boom. The trailers are then rolled onto the ship and secured. At the other end, they are rolled off just as easily. Because of this set up, the aircraft doesn't need to undergo as much disassembly.

RORO ships can cross the Atlantic in nine to 25 days depending on port congestion, Urban explained. However, not every port supports RORO, so there can be additional distance required for transport once in country.

Air is the most expensive transportation method, especially for larger, heavier aircraft, but it is also the fastest — capable of delivering your aircraft in a day or two, said Urban. Direct Helicopters controls a global fleet of Boeing 747s for just this purpose, providing dedicated warehouses for easy fly-in, disassembly, and direct loading onto the 747, as well as full airborne logistics in addition to ground and sea.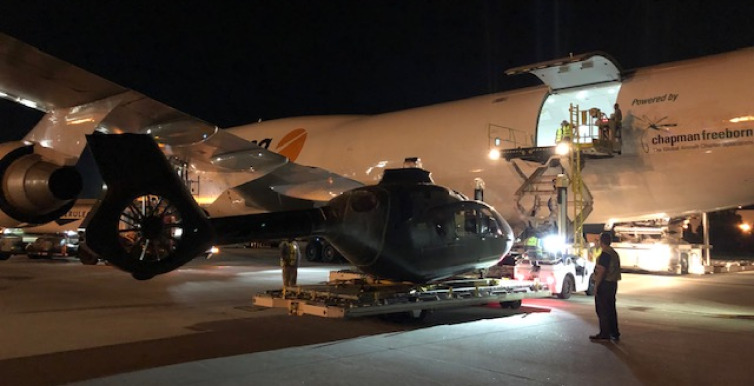 Cost and time, however, should not be your only considerations when choosing a transportation option. "Not all trucking companies will insure aircraft," warned Doug Scott, owner of Calgary Gooseneck Service, a dedicated aircraft ground shipping company. "Most companies insure up to $2 a pound. You want to make sure: one, that the company will insure your aircraft to its value and, two, that you have the value of the aircraft on the bill of lading. If something does happen, that will give your legal department grounds to recoup some of the money from them. And as soon as you have that value on the bill of lading, the shipping company will have to contact their insurance company to make sure they're covered, or at least let you know the limits of their insurance coverage."

Air and sea carriers are slightly different in their insurance procedures. Companies that specialize in transporting aircraft are the best bet to ensure more comprehensive coverage and protection. Regardless, the new owner should also confirm that the aircraft is fully insured by their own insurance company before shipping.
Preparation

Once you know how you will ship your aircraft, it must be prepared for shipping. Turnkey companies like Direct Helicopters of Ontario manage every aspect, from helping with sales to paperwork, export/import logistics, airworthiness, aircraft preparation, and shipping. Direct Helicopters' Urban recommends buyers work with their shipping company to ensure the aircraft is properly prepared for that type of shipping to reduce risk of damage or refusal to compensate for damage.

"The new owner needs to give serious consideration to who is preparing the aircraft to ensure it's packaged properly," Urban said. "If I'm not doing it with my own teams, I'm available to my shipping customers to consult on proper preparation."

A mechanic or engineer can remove the blades, drain the fuel tanks, disconnect batteries and ELTs, secure gyros, and perform other key and required preparation items under direction of the shipper. Shipping companies specializing in transporting aircraft will also have specialized shipping rigs for specific airframes to best secure each aircraft for the specific form of shipping.

Experienced packagers and shippers will also know your aircraft and how to safely transport it, Calgary Gooseneck's Scott said. He prefers to have his shipping team there to help package. His team, for instance, will wrap the blades after they're removed from the aircraft. That way, if there are no signs of damage on the wrapping when the aircraft is delivered, it is easy to determine whether any damage was caused before shipping.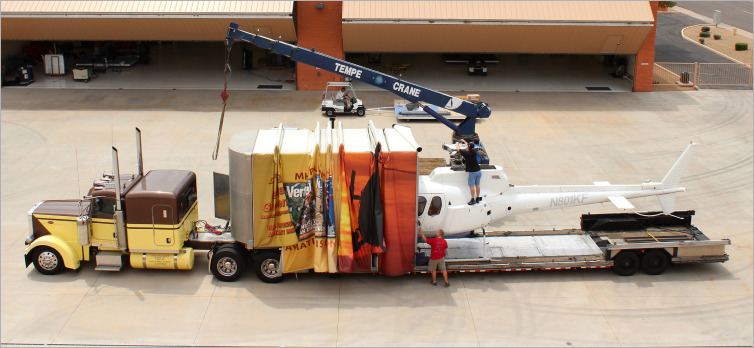 Scott also highly recommends a mechanic or engineer be present when the aircraft is disassembled for transport. This person can then note the work in the aircraft logbook, making it easier for those reassembling it to know exactly what was done to prepare the aircraft for shipment.

Other key steps that should be taken when preparing an aircraft for shipping include securing any loose items, ensuring nothing is against windows that could cause damage, and providing an outer protection if the aircraft will be exposed at any point. Scott's air-ride trucks are covered, providing protection against dirt, stones, ice melt, and other damage-causing FOD on the road.

"You really need to be sure you have your aircraft shrink wrapped if it's going to be out in the open, especially in the winter," he warned. "The calcium chloride they use on the roads in the winter now, I've seen that stuff eat paint off aluminum in a day. Before we had covered trailers, we would shrink wrap all our aircraft after they were prepared and before we loaded them on the truck."

In the end, a good logistics company with extensive experience in importing, exporting, and transporting helicopters can save buyers considerable time and headache. It can also offer educated advice on shipping options and help ensure the aircraft is properly prepared, insured, and accompanied by the necessary paperwork — every step of the way.