SELLING A HELICOPTER
Why list with HeliTrader?
In all the years since Igor Sikorsky took his first flight to introduce the "helicopter" to the world, there has not been a helicopter-focused resource for buyers and sellers.

By: Jen BoyerPosted on: May 17, 2022
In all the years since Igor Sikorsky took his first flight to introduce the "helicopter" to the world, there has not been a helicopter-focused resource for buyers and sellers. Targeting helicopter buyers was challenging. People in the market were forced to wade through mountains of ads for airplanes to find helicopters on other platforms. Even then, it was a frustrating prospect to get your aircraft seen, or to find one based on your requirements. Until now.

For years, owner of MHM Publishing Mike Reyno fielded requests from readers and advertisers alike, who consistently requested a helicopter-only marketplace.

Publisher of the industry's largest and most-read periodical, Vertical Magazine (along with a variety of other aviation publications), MHM already had the reputation, following, and resources to deliver.
"Our network is tens of thousands of engaged helicopter people around the world," said Group Publisher Reyno. "That is really half the battle, having a foundation audience. But it wasn't enough for us. We wanted to be sure that what we created would be better than anything out there for buyers and sellers."
Reyno and his team researched other markets for high-value products outside the industry, in addition to what currently exists for aviation. He admits what he saw in the luxury car and yachting worlds were far more user friendly, modern, and engaging than today's industry options. His team took the best from each of those outside platforms and combined everything with the feedback received from within the helicopter industry to create the HeliTrader platform.
"We aimed to make this as easy and seamless as possible for all users, regardless of how many aircraft they sell or buy, There isn't a lot of clicking around or multiple drop downs on the website."
Mike Reyno, Owner MHM Publishing
"And," he continued, "we offer direct connections between buyers and sellers. There is no requirement that you have an account manager. It's fast and easy to post an ad and update as needed. For buyers, they can browse or search by specific parameters and be directly in touch with a broker in minutes."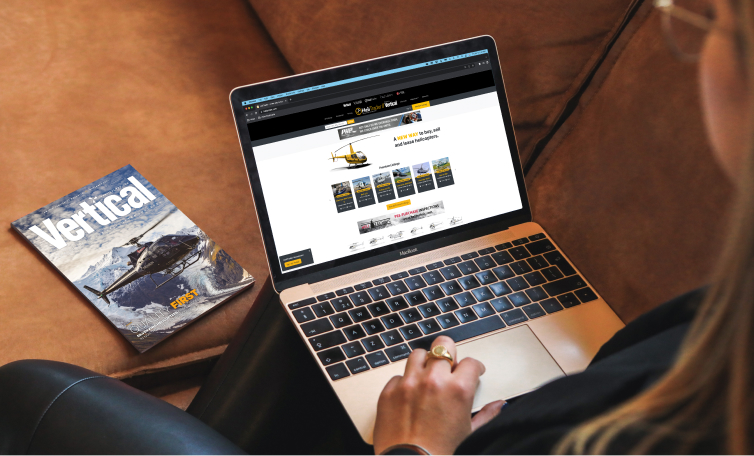 What Makes HeliTrader Different
HeliTrader is the world's first helicopter-only aircraft sales marketplace, which quickly connects buyers and sellers of rotorcraft with no middle account manager. MHM is a 100 percent family-owned business not affiliated with any brokerage firm, allowing it to provide a fair and impartial service for all sellers and buyers.

The marketplace is powered by Vertical. The team selects the latest postings and advertises them on the magazine's website, drawing traffic from its more than 130,000 unique monthly visitors. Ads for listings also appear in the magazine's daily e-newsletter that reaches just under 40,000 people a day.
"Our connection with the industry is key for us," noted Reyno. "We know our Vertical audience is a highly engaged industry group. We already reach the people who buy helicopters with our other publications. Even if they weren't actively looking, they're engaged with Vertical and will see a listing, which many times prompts contact with the seller. You don't get that with a marketplace that people have to choose to go to independently

HeliTrader is also extremely user friendly, backed by a responsive team that not only provides support and assistance, but also accepts feedback to incorporate into the ever-evolving platform.

Listing with HeliTrader is free and easy. Sellers and brokers can create unlimited listings, with one listing per aircraft for sale. Each listing includes the use of 10 images, two videos, and two documents. Sections are also available to describe the helicopter's avionics, equipment, interior, general characteristics, engines, and inspection details, making it easy to highlight key selling factors. Sellers may also choose to create a profile page for their company, where buyers can view all rotorcraft listings associated with that company.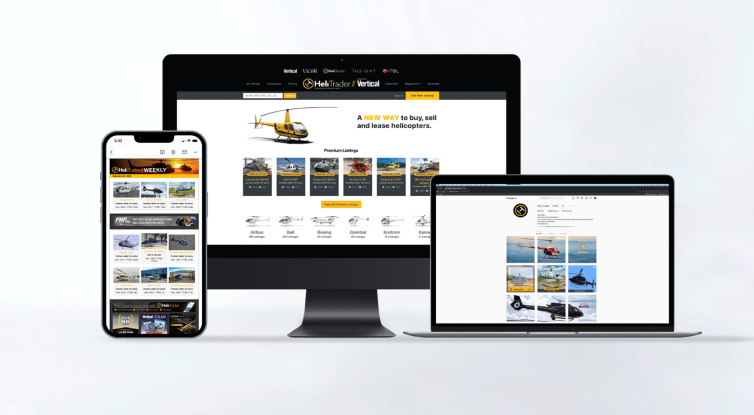 For buyers, gone are the seemingly endless drop-down menus of other aviation marketplaces. Visitors land on a page illustrating premium listings. A click on "all listings" takes them to a page where they can filter their search in a left-hand sidebar. A few boxes ticked and sliders positioned, and HeliTrader quickly returns all aircraft in the search parameters. Buyers can utilize buttons on each listing to email or call the broker directly. They also have the option to compare listings. When visiting the full listing for an aircraft, buyers can look through enlarged photos, view all the details, and even download an informative PDF document.

What's more, HeliTrader isn't done expanding its services for buyers and sellers. The marketplace is preparing to launch an email alert option, giving buyers the ability to request an immediate alert when an aircraft meeting search parameters becomes available. This will further secure buyers for each listing.

HeliTrader will also utilize social media as a tool for sellers, and further into the future, parts and component sales will be incorporated into the website.